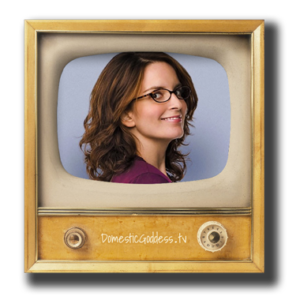 Tina Fey is a comedy writer & producer and actress best known for her gig as a long-time & wildly popular Saturday Night Live cast member and her Emmy-award winning role as "Liz Lemon" on the popular NBC sitcom, 30 Rock, which she created.
Since leaving SNL she's written a best-seller, become a cosmetics company spokeswoman, starred in several feature films, and racked up a long list of awards that would make any performer proud. Not too shabby, Tina… not too shabby. But there's much more to Tina than that. From the Alzheimer's Association to GLAAD to Stand Up To Cancer, Tina uses her status as a pop culture comedy icon to further a plethora of causes she supports.
One of those causes, Dress For Success, is a charity that provides professional attire to disadvantaged women around the world. With operations in more than 130 cities in 18 countries worldwide, Dress For Success represents exactly what DGTV is all about: empowering and helping women from all walks of life make the most of their lives going forward, no matter what challenges they've faced in the past. Tina's support of such a great organization tells Us just about everything we need to know about her… that she's pure awesome and more than worthy of being one of DGTV's Honorary Goddesses of the Month. Not to mention that she's just a flat-out riot with more comedic talent in her left ovary than most of us have combined!
As if anyone could ever forget her triumphant Sarah Palin impression… perhaps the greatest impression of all time.
Keep rockin' the casbah, Tina! We love ya!!